24 Apr 2020
Top 5 Best Online Logo Maker In The World
Your logo is the face of your website. A well-designed logo is self-explanatory and memorable. This post will help you choose the best logo maker in no time.
How to pick the best logo maker for you
When you're choosing the best logo maker for your needs, here are some of the things to pay attention to:
Ease of use – some logo makers do a lot of the work for you, while others require you to basically build from scratch.
Price – some logo creators are 100% free, while others will charge you if you want to download a high-quality version of your logo.
Customization features – some logo makers offer full drag-and-drop interfaces and lots of design elements, while others are more limited.
LogoMyWay allows you to create your own business logo. The task can be done quickly and easily. Fashioned by top-quality designers, every logo design can be customized to suit your specific needs (fonts, colors, size, text, etc.). You can also receive full commercial rights to your selected logo.
On LogoMyWay, the logo making process is a piece of cake. You have all the options in the world for your logo at your fingertips: 600+ possible designs, 30,000+ expert designers, unlimited editing ability, copyright ownership, and contest entrance! Visit the site today and snag that awesome logo! You deserve to own the perfect advertising symbol for your amazing company, don't you think?
What are the advantages of using LogoMyWay's logo maker? 
It is simple to use.
Logos are unique and professional.
Logos have all the right files provided.
You will save time and money.
You can contact customer support anytime.
You will have access to professional logo designers
Squarespace Logo Maker is a good option for a simple logo. You can instantly see how your logo would look on a business card, website, or t-shirt by testing prototypes on the editing screen. Use Squarespace for a simple, slick logo.
Pricing
Squarespace is a free online logo maker. High-resolution files are available for free if you are a Squarespace customer. For non-customers, there is a fee of $10.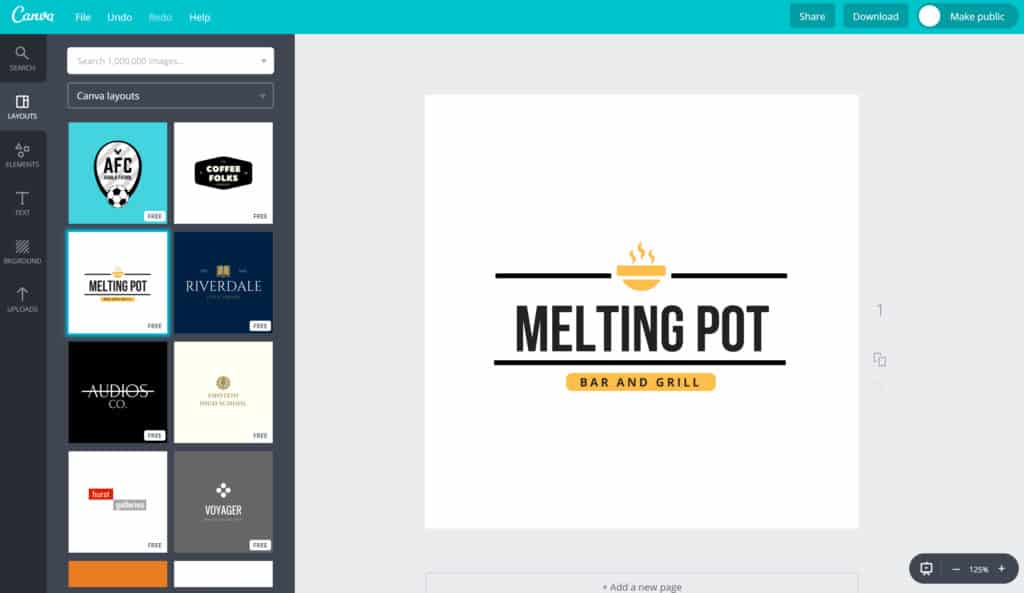 Canva has been on the free design market for a while now, offering free and paid templates for social media images, flyers, invitations, business cards, and more. In their impressive lineup of templates comes a large variety of free and paid logo options. Start with one of their free templates, and then change the text, colors, fonts, and more to match your brand.
Don't like what you see? Upload your own graphics, or choose from Canva's vast library of free elements to add to the logo template with the simple-to-use drag-and-drop feature. Download your design as a PNG, JPG, or PDF. Use the site to create letterheads, business cards, and more using your free logo.
The only downside is that other people can use the same templates, so you might see similar designs floating around online. With a bit of creativity, it doesn't take much to give these free logo designs your own unique touch and get a professional-looking logo at no cost.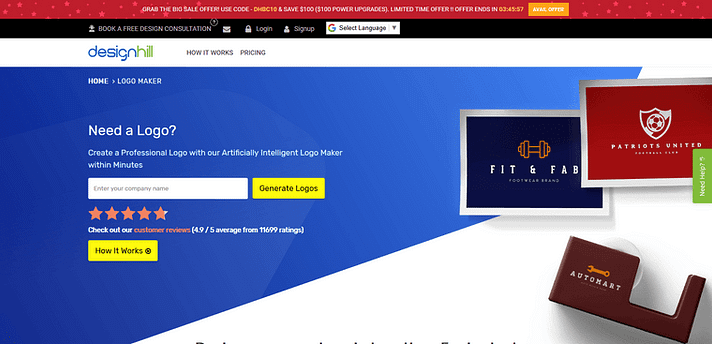 Designhill offers unique and intuitive designs that make your logo extra informative.
First, pick your five favorite design styles. Next, their system will generate several specific templates. Edit your favorite one to make a stunning brand face for your business, changing anything from layout to icons to build the perfect logo.
Pricing
You can get a logo for a one-time fee of $20. This would be a basic resolution logo file. For a higher resolution with more distinct versions, they will charge you $65. If you have a bigger company and want more add-ons, get a $150 enterprise level package.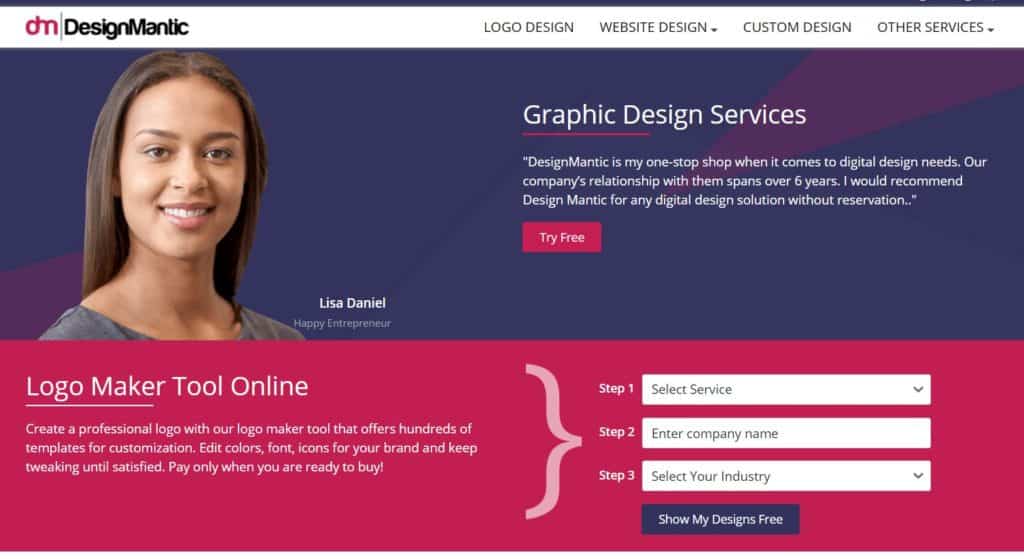 Get started with Designmantic's free logo generator by choosing your preferred logo style, font type, and colors. Next, enter your business name and select from over 30 industry categories. When you find a logo you like, you can customize the colors and the font.
Although the tool is free, downloading your design comes with a fee. This means you'll get a high-resolution and a vector-based file for large scale printing. Unfortunately, this site doesn't offer unlimited downloads. If you don't want to pay the download fee, it can be a great tool for gathering inspiration.
Our Recommendation:
Apart from this list, there are many more logo maker tools available, but we feel, this comprehensive list would be enough for you to get started with your logo designing. Choose one like LogoMyWay's logo maker with design templates for fast and easy creation of a logo. Do let us know which one you chose by commenting below.
Also, if you think we have missed your favorite logo maker tool please fill up the feedback form to help us review the same. Until then, Enjoy your log designing journey!